Challenge
While the Seabee contribution to American military success and humanitarian efforts has been extraordinary, it is less well-known than that of other military units. The Foundation was also competing for donations with many other military groups, from museums to veterans organization.
Theme
Red Rooster Group extensively researched other military-focused organizations and museums as well as the history of the Seabees. We found that red, white, and blue predominated on the military sites, along with the words "patriotism" and "heroism."
While these evocative words applied to the Seabees as well, their history revealed that they had more, a unique attribute: Ingenuity. Under fire and without resources, the Seabees innovated ways to conquer engineering challenges and made it possible to move troops, from their inception in World War II to humanitarian efforts today. Their ingenuity became the basis of the campaign and the website.
We worked with the client through multiple rounds of theme development to ensure that the final theme incorporated all the key elements and set the campaign apart.
75 Years of Building Under Pressure
Keep the legacy going
U.S. Navy Seabee Museum Diamond Anniversary Campaign
Celebrate 75 years of rock solid service
U.S. Navy Seabee Museum Diamond Anniversary Campaign
Achievement beyond expectations.
Brilliance under pressure. Honor their achievements
U.S. Navy Seabee Diamond Anniversary Campaign
75 Years of Ingenuity at Work.
U.S. Navy Seabee Diamond Anniversary Campaign
Campaign Logo & Brand Manual
Red Rooster Group brought together the Diamond Anniversary theme, the toughness of the Seabees, and their construction prowess by using a riveted-steel background and the military stencil font. The logo is part of a flexible system for use in print and online media. A brand manual was developed as part of the campaign.



Campaign Brochure
The capital campaign raised money to both preserve the legacy of the Seabees and to inspire a new generation with their "Can Do" spirit. The brochure reflected the connection between the past and future while retaining focus on the ingenuity of the Seabees.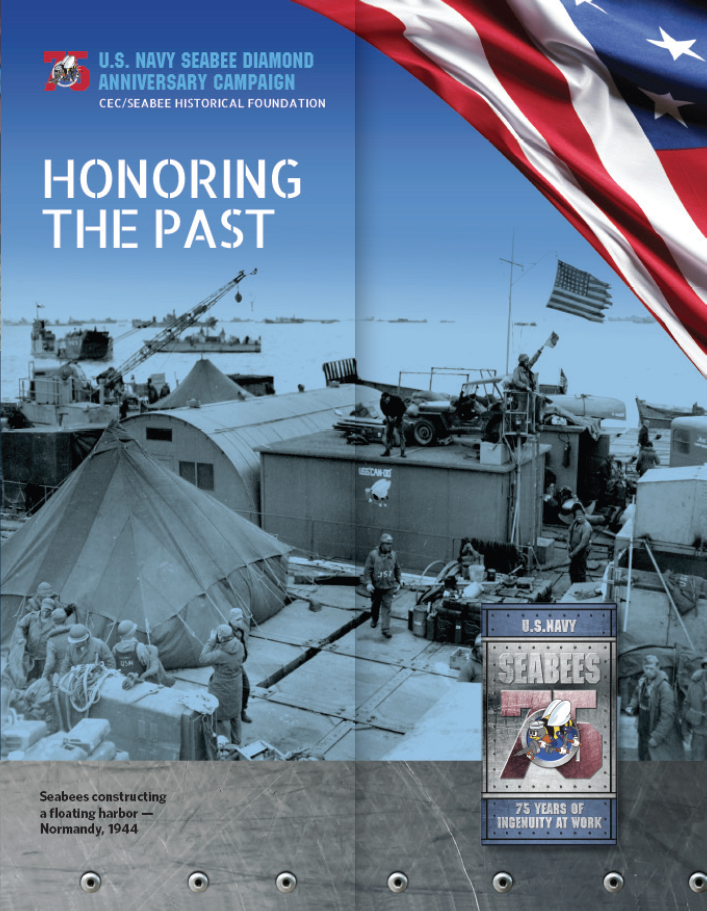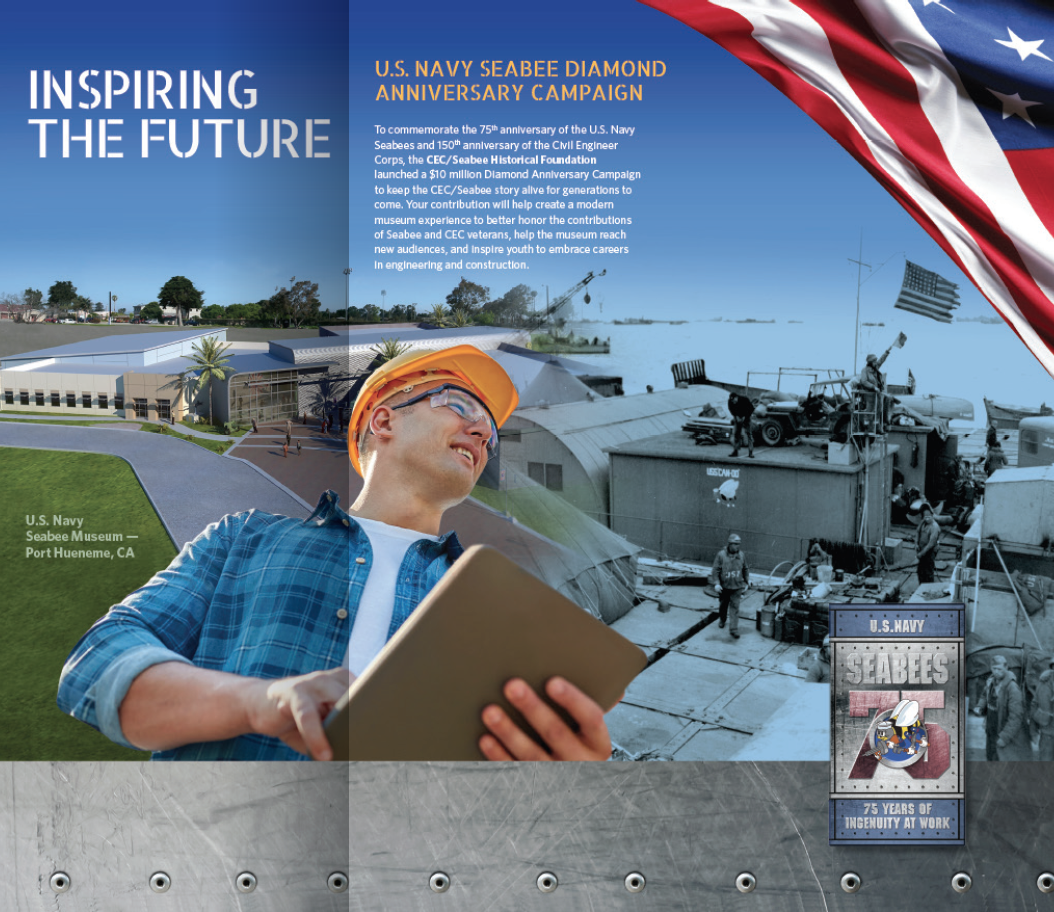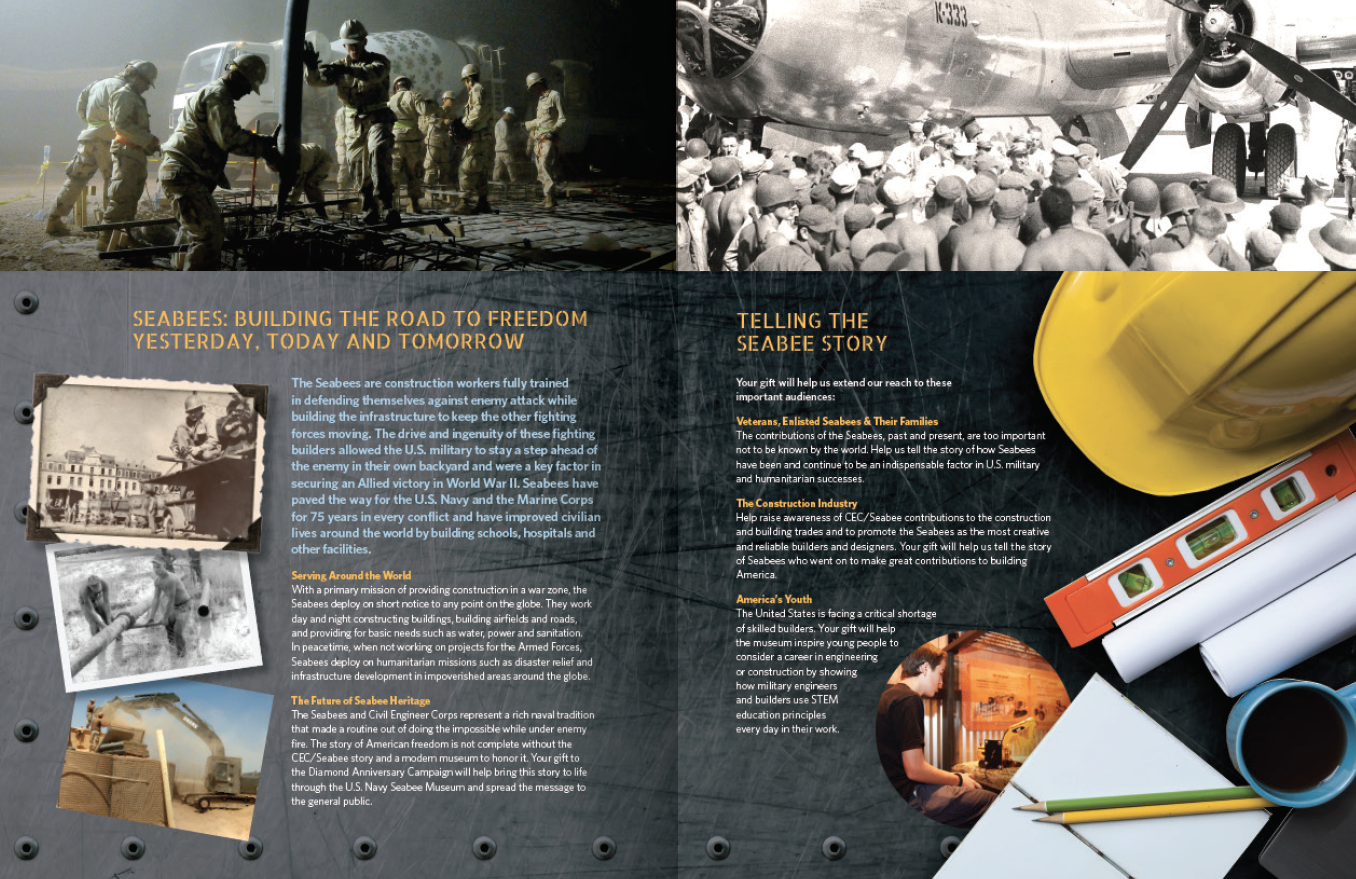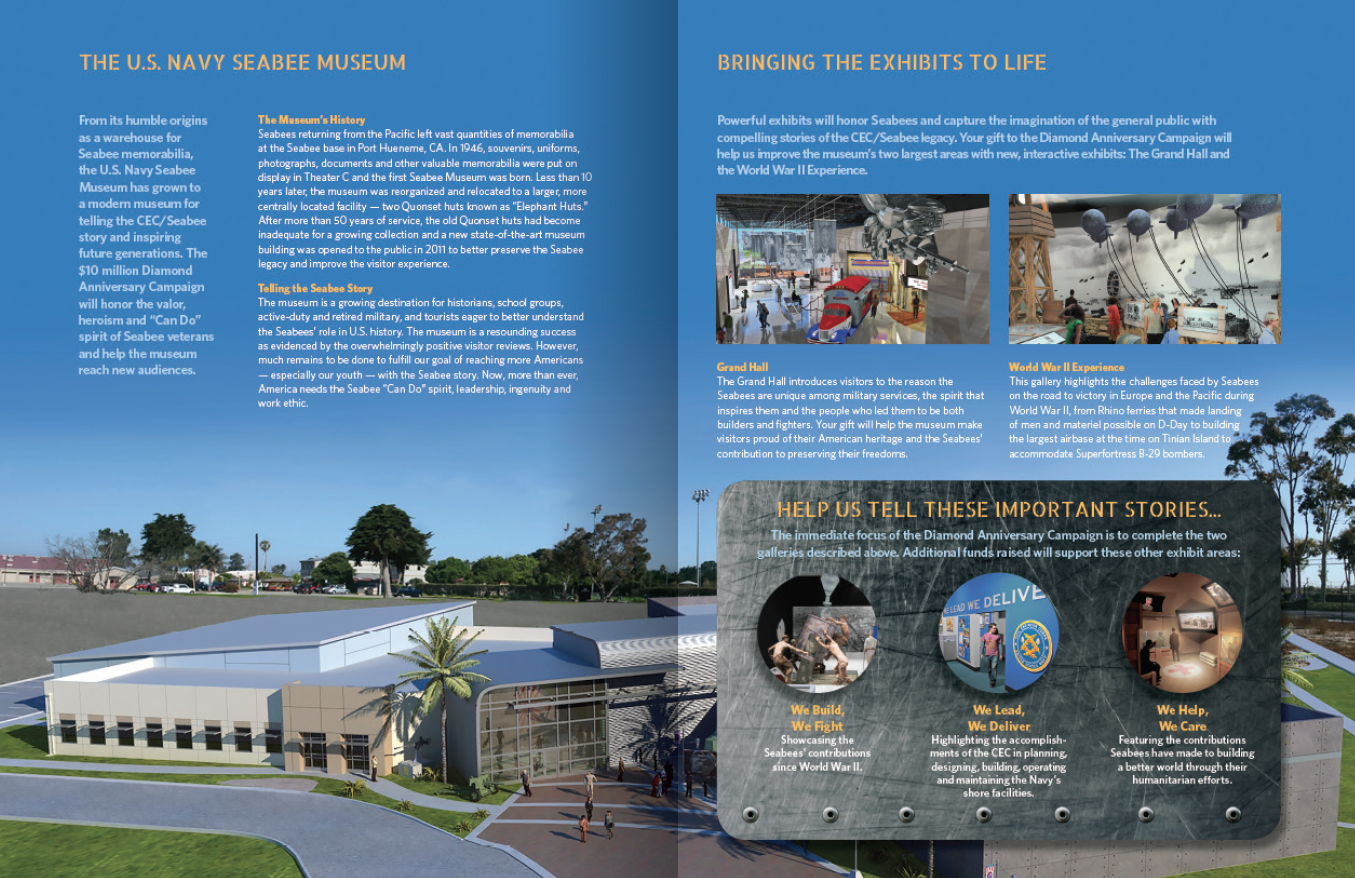 Campaign Website
Our approach for the website was to invite potential donors to explore the Seabees' ingenuity while learning about the campaign, and the specifics of the museum. The homepage features scenarios describing specific challenges that Seabees faced in panels that flip to reveal the solution. The Seabee page continued this interactivity with photos of the Seabees in action and rollovers that described their accomplishments. The Campaign page highlights the goals of the museum, from preserving the Seabee legacy to motivating young people to step up to a career in construction, with the Seabees or in private industry. The Museum page gives visitors a quick look at the exhibits the campaign will fund by using a slider that describes each gallery.